RISK, THREAT AND VULNARUABLITY ASSESSMENTS
To understand what kind of Safety and Security risks need to be identified and control, the need is to understand what the existing risks and shortfalls are.
We, Securicor Integrated Pvt Ltd (SIPL) understood that the impacts of safety and security failures in most of the scenarios are, and will be exceptionally dreadful, that undoubtedly need exceptional protection measures and expert inputs. The focus of the firm shall, but not restrict to balance threats, risks and vulnerabilities impacts if occurs against the costs of counter measures and solutions provided, however, the proportionate of this feasibility might vary partially or significantly due to numerous factors to such as socio-political or socio-religious importance, cultural sensitiveness, nature of protections required, government, semi-government, private and public financials limitations, funding, budgeting, legal implications, law of the land or any unforeseen acts.
It is always difficult to secure 100% any kind of risks but it can be reduced significantly with the unique Risk, Threat and Vulnerability (RTV) process, that SIPL will developed to ensure that before taking any strategic decisions or enabling a recommended approach towards mitigation.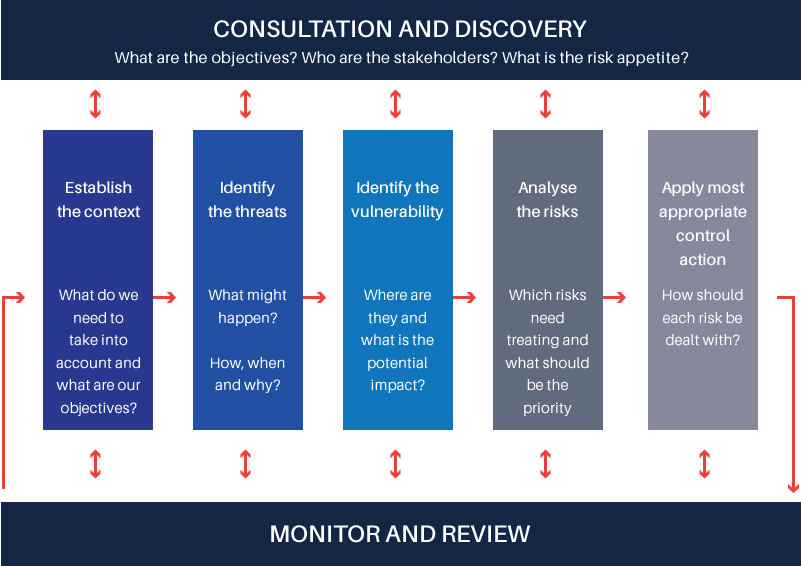 The aim of Securicor Integrated Pvt Ltd is to put efforts forward to evaluate and improve the existing Safety and Security environment, brings innovative concepts, extend support to regional and statutory governmental agencies, and to contribute towards the enhancements of protection environment. To minimize the vulnerabilities against the dangers, a common understanding start striking to maximize the layers of protections, na and defenses, safety and security methodologies to mitigate and eliminate the risks.
We will evaluate your existing business risks, threats and vulnerabilities then will further carry out a thorough research and accordingly identified and involve all relevant stakeholders to correctly explore our client current risk levels.
We mutually work with our clients to have an integrated self-sustainable methodology that essential and appropriate to the norms business:
Existing risks to People, including staff, visitors and contractors
Evaluation, Inspections of Physical assets such as buildings, contents, plant and equipment
Existing if any Safety, Security and Emergency strategies
Procurements, Supply chain and all third-party suppliers
Business nature, operations execution and processes
Activities that may attract terrorists and intruders
We provide tailored solutions accordingly to business needs centered by considering the overall risk management process vs available recourse and likely cost implications. We provide impartial and unbiased advisory services with the objectives to minimize the risks, threats and vulnerabilities against any planned and deliberate actions that might lead to unfortunate situation.